How to design a workout plan | Create your weekly exercise routine
Workout Plan or Exercise Routine
The efforts you put in the gym or during home workout sessions are precious. The amount of energy and dedication you use are worthy. What if you can achieve what made you started working out? A workout plan is simply a chart for fitness success. A typical exercise plan consists of rest days, active days, and exercise type with sets x reps.
Benefits of having a workout plan:
Helps in achieving your fitness target
Saves your time by pre-scheduling the week
Structures your workout journey
It acts as a checklist for exercises
Evaluation and tracking your progress
The primary reason for writing this post is that many fitness enthusiasts always search for a perfect workout plan that can fit in their daily schedule. They want a superior working plan that generates positive results on the body after 3-4 weeks of execution. They look for ready-made workout plans online because it is the easiest way to do so. These people usually do not want to attend a gym or hire a costly personal trainer. I, too, had searched a lot of times before I created mine because I wanted to skip the boring gym and follow the independent fitness routine based on my schedule.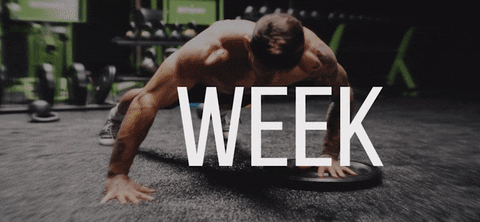 The one thing I have noticed while searching online that a workout plan is the mighty revenue generation product for fitness coaches. They charge for giving a ready-made exercise plan and charge even more if you request a tailor-made workout plan. There is almost no website or an app that provides a free personalized workout plan. However, there is plenty of information available on the internet related to home workouts. There are lots of videos, apps, blogs that describe the mechanics of working out at home but, none of them is competent enough to provide an exercise plan. After creating a personalized exercise routine and successfully following it for weeks, I have decided to put all the necessary steps required to create a home workout plan.
There are few things I would like to clear you before taking you further. First, it's worthy to have a workout plan which can support you obtain optimal results from your sweat. Second, a workout plan if followed consistently, can produce surprising results, but it takes some time to display on your body. Third, there is no ready-made perfect workout plan available in the market, and if it is then, don't get fooled by them. An exercise plan is always meant to be personalized based on the availability of time and the size of your fitness goal. As I said earlier, there is no perfect workout plan as such, all you have to follow this guide to create one. To make the workout plan better, you have to regularly optimize the workout plan, as I have guided in the steps below.
Note: I am in the 4th phase of the execution of my tailor-made goal-specific workout plan. I am writing this based on 45 days of working experience. As I am constantly working on optimizing the exercise plan, I will update this article soon based on new learnings. This help guide will take you through the series of steps required before, after, and during the workout routine. After reading this complete article, I hope you can build a personalized exercise plan for FREE!
"If you don't know where you are going, you'll end up someplace else."
Summary:
A guide based on my 45 days of home workout experience will help you avoid a gym trainer by teaching you ways of developing a free personalized workout plan. This comprehensive article can help you get fitness planning information all in one place. It is a composition of various mechanisms involved in working out at home and practical execution of same. The fitness results may take a long time, but you can get a structured workout routine in a single read. Create and optimize it based on your goal.
Steps for making a workout plan:
Define your goals

Write down your WHY

Understand your time and fitness level

Choose workout type

Select exercises

Design a workout routine

Use workout plan

Record and evaluation

Modify and optimize workout plan
Knowing yourself
Before making a workout plan, you must be aware of your body dimensions, fitness level, fitness target, and daily schedule. Designing a workout routine starts with defining what you want from yourself. If you know why you want it, then it can help you keeping consistency in the long run. Answering these questions could be challenging, but if you know the answers, then it will help you answer how to get what you want. A workout plan is a well-defined answer statement to how to get the fitness you envisaged?

"To find yourself, think for yourself coz knowing yourself is the beginning of all wisdom."
Define your goals
We have heard many times that we should make SMART goals. Why? Because it actually works! Make a specific goal for your health which you can measure easily. Your fitness goal should not be fictitious or too hard instead; must be achievable and realistic. Most importantly, a goal without any time boundation is simply a wish which never comes true.
There are few things that I used while defining my fitness goal
Smartphone or a laptop
Fitness band
Measuring cloth tape
Weighing scale
Google sheets
Google Calendar
Habit tracker App
Body dimension App
For fitness goals, you can either target average calories burn per week or an x number of sets of particular exercises. Defining a fitness target can be subjective. For me, it was transforming body dimensions and developing flexibility. Your fitness goal could be running at a good pace, getting a ribbed body, or losing weight. I took the help of my fitness band to analyze my current fitness to make a target above the current levels.
Sit back on your comfy chair and think about what you want to achieve from a fitness routine. What made you decided to start working out? What's your wanna-be statement?
Take your laptop and open google sheets. Create a table with headers as weight, height, and other body dimensions(like the size of chest, hips, calf, waist, biceps, forearm, wrist, and neck). Note down your current sizing with the date on which you measured. On the next row, make a target size which you wanted to achieve with the futuristic date.
Now sit alone and think about a typical day and scan what you do and where your time goes. Our aim here is to know the idle time slots of the day, where we can position our workout routine. Find the 30 minute or 45 minute time in your day and fixed the allotted duration and time as part of your goal. Select the time with which you can stick in the future.
Now comes the part of tracking and recording our progress. Here I took the support of technology to track what I am doing. I used few apps and a fitness band to measure my fitness. I used google calendar to fix the final date of the assessment. For example, if you want a fit body till the end of the month then, put that date into the calendar as an event. Doing this will help you know how much time you have to achieve the goal.
Use the habit tracker app to check off the days when you have done with the exercise. This app will remind you about the habit on the days which you have planned. Download another app for recording your body dimensions. All you have to do is to measure your body sizing and put the numbers in the app. It will record time date-wise and later on help you assess your dimension.
Until now, we have made a specific target for body size, weight, and fitness level. We have gathered the resources to measure our body dimensions, consistency of habit, and fitness levels. Based on our current fitness level, we are targeting a mark above our present one. Therefore we are aiming for a realistic and achievable goal. We already have gone through our regular schedule and devoted certain hours in a week dedicated to fitness. We have fixed a date for the completion of our fitness goal. This way, we have made our fitness desire a time-bounded professional fitness goal.
"All successful people have a goal. No one can get anywhere unless he knows where he wants to go and what he wants to be or do. "
Create SMART goals and define them clearly with the use of technology. Collect the pre-requisite items and start thinking about your fitness desires. Assess your fitness level and target for a higher level to make the goal challenging. Record your present body dimensions, weight, and fitness level to compare them in the future. Make use of apps or calendars to track your exercise consistency. Finalize a date on which you will hit the target. Find some spare time out of your busy schedule and stick to the routine.
Write down your WHY
First and foremost, why it is paramount to know your "WHY." It is because the journey of achieving great fitness is a bit long. The process may become monotonous by the end. You may face several ups and downs during the course.
During this journey, you may face some good days as well as some bad days. Sometimes you will be charged with positive thoughts, and sometimes you may doubt yourself. There will be some tough days you may sweep using your motivation, but there will be some rough days when you lack inspiration.
Writing down your WHY Statement will help you conquer challenges down the line. It will help you get going, even if it is tough to do so. You may need this statement often during the training to know why you started it. This statement not only keeps you consistent but also supports you in achieving your goal.
Now how will you write your WHY Statement and take maximum benefit from it? Simple. Use the power of technology to get your results. What I did in my case, I wrote down my statement using google docs so that I can access them wherever I wanted to. I pick out the document link and pasted the same in my note app so that I can refer to the document more quickly. I set several reminders, which are few days apart, to remind myself about why I started.
I have experienced that whenever we do something challenging, our mind throws a question bluntly-Why you're doing this and hurting yourself? Earlier I used to say, "No pain, no gain." but, later I found that this is not enough to convince my lazy mind. So I start referring to my WHY statement before my mind starts questioning.
My suggestion is to put such WHY statement reminders between 1/3rd of the journey. For example, if you want your results in 90-days, then mark the reminders 30 days apart.
I used some bold questions to plot my WHY statement. I believe that asking the right question to our mind can help to get better clarity. Questions are the best tool for crafting your story.
Below are the questions I used in my WHY Statement:
What did I want from myself?
Why is it required now?
Why did I choose to exercise?
What benefit will I get from a planned workout?
Summary:
A "WHY statement" is the predominant tool in every planning, not just for a workout plan. The fitness journey is a bit difficult for beginners, and facing ups and downs is inevitable. As you pass the days doing a fitness routine, your energy will slowly fade. A "WHY statement" will provide the necessary momentum to keep you consistent. It will reinforce your patience level by providing essential inspiration from time to time. Put down why you want to exercise using an app so that you can quickly refer to it. Make the document handy and accessible. Write in as much detail as possible using a Q&A pattern.
Understand your time and fitness level
Designing a workout plan
Choose workout type
Select exercises
Design a workout routine
Optimizing the workout plan
Use workout plan
Record and evaluation
Modify and optimize workout plan